Discover more from Life in the Real World
An Oasis of Peace and Beauty
Over 1,000 subscribers
"It's funny how things change slowly, until the day we realize they've changed completely." - Nancy Gibbs
Hello friends! The change of seasons is in full swing here. It's warm, it's cold, it's warm, it's cold, it's Missouri in the fall. Some trees, like most of the stately oaks, haven't changed at all except to drop their meager supply of acorns after a tough growing year. Some trees are now completely bare. I often say it's hard to notice the change from day to day but week to week it's remarkable.
Out on the lake the flock of Franklin's gulls has shrunk from our record setting numbers, but there are still a few hanging around (or passing through, I can't really tell). The number of ducks have increased and though the cold and wind make it tough to tell what kind of ducks are out there, the circling flocks are definitely much larger in number. My little cootie friends are swimming in groups organized by hundreds now and today I saw my first hooded merganser of the winter.
Here are some favorite recent photos: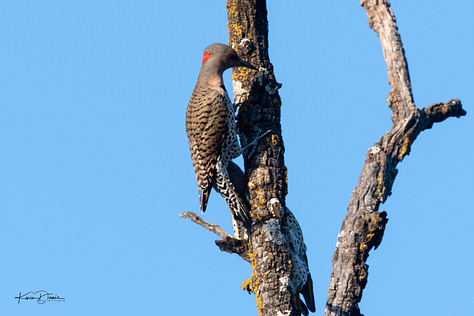 There have been lots of flickers around - sometimes at least one too many. Some days I want to say hey, boys, it's not mating season! If you look closely you will see that the flicker on the back of the branch reached over and plucked feathers out of the other flicker's belly!
May your weekend be filled with peace and joy in whatever ways are possible, big or small. There are lots of horrors in the world today - and there are lots of little beauties too.
Subscribing, gifting a subscription, and sharing are all ways you can help me keep spreading beauty and peace. Subscriptions are on sale through the end of the year!